Patrick Neher - Concerto #1 "Pop" for Contrabass and Orchestra (2016)
A quick and energetic three-movement contemporary concerto, in a very accessible, Hollywood style. 12:00 minutes performance duration.
Study score, concert score and parts are available now. Piano reduction coming soon.
Solo part (in orch. tuning only) and study score cat#137b $25.
Orchestra parts and performance score:
cat#137o $150
rental.
Piano reduction and solo part: cat#137 $35
Patrick Neher - Romance for Violin and Piano (2015)
Though certainly romantic and lyrical, this Romance is also playful and virtuosic. In three movements, the composition hosts elements of jazz, Gypsy, and Sibelius-like styles. About 20 minutes. Written for L.P. How, violinist.
cat#608 $
Patrick Neher - Character Waltzes for double bass and piano
(2014)
The latest in the series of bass and piano pieces by Patrick Neher is a short (10 minutes) set of four waltzes of professional level challenge, that are based on theatrical characters. Each waltz is a tone-poem describing a character from the theatre: Izia, Marco, Frankie, and Josephine.
Each waltz is aprox. 2.5 minutes and lyrically spans the entire range of the bass.
Only in orchestral tuning right now, but solo tuning version soon available.
cat#121 $18.00
Patrick Neher - Trio "Mimi" for clarinet, violin, and double bass. (2014/15)
Commissioned work. This composition is a 20:00 minute virtuosic and playful mini-opera, where each player is a character in a short drama about the life of Mimi, the cat. Each player must vocalize and improvise as well as play their instrument well!
Again, very good players are required. Improvisation and vocal techniques (speaking and or singing while playing) are integral to the composition.
Includes score and parts.
cat#607 $32.00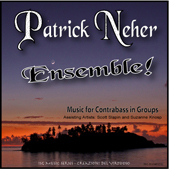 Patrick Neher -Ensemble! is now available. This 15 track CD includes music for bass in duet, trio, quartet and more. Program includes: Dittersdorf - Sonata in Eb for viola and bass (Scott Slapin, viola), Saint-Saens - The Swan for four basses (arr. by Neher), Neher - Unter Grun Brau Durst for bass and electronics, Bach - Two Preludes and a Fugue from the Well Tempered Clavier, arr. for basses by Neher, Vanhall - Trio "La Chasse" for basses arr. by Carolyn Buckley, Neher - Never Question Reality for basses and electronics, and Bottesini- Adagio Melanconico ed Appassionata for bass and piano, with two basses accompaniment (Suzanne Knosp, piano).
Theodor Albin Findeisen - Nixenreigen Fantasie for Contrabass and Piano

An impressively romantic tone-poem by the progressive pedagogue and composer, Findeisen. This gorgeous melody is skilfully edited by Dr. Robert Matheson.
The piano part is available in either orchestra tuning or solo tuning.
cat# TAF0101 $20.00